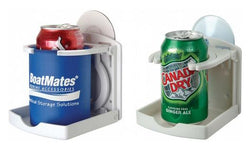 BOATMATES
Boatmates Folding Drink Holden White Twin Pack
SKU: 2022152
Boatmates Folding Drink Holden White
Serious anglers and pleasure boaters alike enjoy having refreshments onboard out on the water. But when it comes to reeling in the big catch or steering the boat through a crowded marina, it helps to have both hands available. The new Folding Drink Holder from Tempress Products holds drinks when drinks can't be held. Cans of soda, bottles of water and other drinks come out of the cooler nice and cold, but without a cozy, often end up warm and flat. Traditional holders keep drinks handy, but can't accommodate the cozy. The new Folding Drink Holder features double-ring collar assembly capable of holding both cans and cans with cozies. Drinks can stay within reach and stay cold, too. With a new all-resin design, the drink holder won't rust or corrode. Its injection molded, commercial grade resin provides superior durability and an attractive appearance. Few moving parts results in a longer, more reliable product life. The holder can be mounted with Tempress' Super-Suction cups or screw mounted. 
Mount with Suction cups or screws

Fold up out of the way design

Fold down ready to use design 
WARNING: This product can expose you to chemicals including arsenic, which is known to the State of California to cause cancer. For more information, go to http://www.P65Warnings.ca.gov.