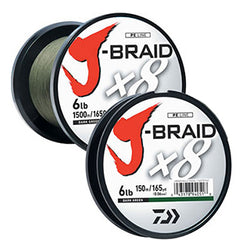 Daiwa J-Braid 80lb 300M - Dark Green
SKU: 2145080
Daiwa J-Braid 65lb 3000M - Multi Color
J-Braid x8 line is a complete line up of high quality 8 carrier braid made of the finest materials from Japan. 8 Strands of tightly woven fibers makes for a perfectly round profile. The result is a much stronger, softer and smoother line that is more sensitive and farther casting. J-Braid is one of the best quality and value braided lines on the market. Made in Japan.
Line Color Options:
 
J-BRAID™ DARK GREEN
Dark Green that is more natural in situations where you may want to tie your hook or lure directly onto the onto the line–without a leader.
J-BRAID™ CHARTREUSE
Chartreuse line is highly visible and this helps detect even the slightest line movements.
J-BRAID™ WHITE
A popular offshore line color ideal for low light or dark conditions. White also appeals to fish looking up against the sky and water surface.
J-BRAID™ MULTI-COLOR
For deep drop fishing. Color changes every 10 meters for easy depth indication, line movement, and quick programing into Dendoh reel memory for maximum readout accuracy.
WARNING: This product can expose you to chemicals including arsenic, which is known to the State of California to cause cancer. For more information, go to http://www.P65Warnings.ca.gov.