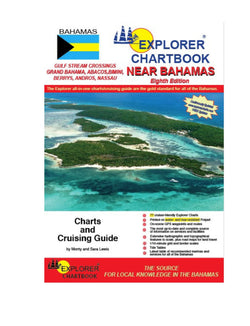 Lewis Offshore Ltd.
EXPLORER CHARTBOOK: Near Bahamas - 9th Ed.
SKU: 7020607
9780965984270EXPLORER CHARTBOOK: Near Bahamas - 9th Ed.
This popular chartbook and crossing guide is the "Missing link" from Florida to the Bahamas a with many choices of routes ACR's the Gulf Stream to Bimini, the Berrys, Grand Bahama, New Providence, Andros and the Abacos. Pre-planned routes and courses will make your journey a delight. 
The Near Bahamas, the islands closest to Florida, provide a tropical cruising paradise just a short distance from mainland USA.The seventh edition of this popular chartbook includes what you, Bahamas cruisers, ask for -- detailed Gulf Stream Crossing routes plus small- and large-scale charts of the Abacos, the Biminis, the Berrys, Grand Bahama, New Providence, and Andros. The seventh edition incorporates our superior system of digital cartography from latest surveys of these areas for your sojourns and sidetrips--new cruising ground for you to explore with the charts you've come to trust!
Contains:
77 cruiser-friendly Explorer Charts

Printed on water and tear-resistant Polyart

On-scene GPS wayppoints and routs

The most up-to-date and complete source of information on services and facilities

Extensive hydro-graphic and topographical features to scale, plus road maps for land travel

1/10-minute grid and border scales

Tide Tables

Latest table of recommended marinas and services for all of the Bahamas
Author: Monty and Sara Lewis
Publisher: Lewis Offshore Ltd.
Edition Date: 2017
Explorer Chartbook Near Bahamas (8th Edition) is the vital source for all local knowledge in the Bahamas. Using this invaluable tool to help plan your travels, will help make them a success!
WARNING: This product can expose you to chemicals including arsenic, which is known to the State of California to cause cancer. For more information, go to http://www.P65Warnings.ca.gov.