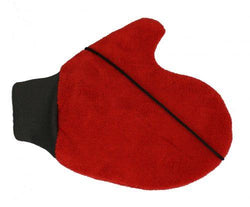 TOP SHELF MARINE PRODUCTS
Top Shelf Marine Hull Cleaning Mitt #1 (Microfiber)
SKU: 4390105
Top Shelf Marine Hull Mitt #1 (Microfiber)
This is Hull Cleaning Mitt 1 is great for use above and below the waterline.  It's made from microfiber so it holds suds well. It also does a great job of removing slime with little impact to ablative bottom paints.  The mitt comes with a removable 6″ wrist lanyard so you can go from mitt to tools while you are under the boat and not worry about losing the mitt. 
Remember: when hull cleaning you should always use gloves.
Types of Hull Mitts:
​#1: Microfiber (Soft)
#2: Medium
#3: Coarse
WARNING: This product can expose you to chemicals including arsenic, which is known to the State of California to cause cancer. For more information, go to http://www.P65Warnings.ca.gov.