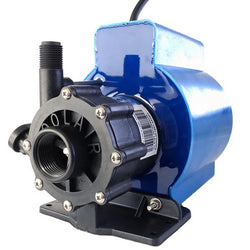 KOOLAIR PUMPS
KOOLAIR PUMPS SM1000-230 Marine Coolant Pump
SKU: 9431130
KOOLAIR PUMPS SM1000-230 Marine Coolant Pump
The SPM1000 is a fully submersible magnetically driven pump seawater circulation and also a coolant pump. There is no shaft seal. The pump is epoxy encapsulated, which allows the SPM1000 to run fully submerged in many liquids. May also run in open air for complete moisture protection. The hardened Carbon bushing allows for extended run dry time. This ensures no damage to the pump head. See the parts diagram furthermore for assembly instructions. The impeller also may be trimmed. Only trim to modify flows or compensate for liquids of higher viscosity. The pump is not self-priming and likewise requires flooded suction. The pump consequently has run dry and thermal overload protection.  Continuous duty rated motor. Available limited warranty. Flow curves based on pumping water.
The Koolair SPM1000-230 Submersible Magnetic Drive Marine HVAC Seawater Circulation Coolant Pump, Replaces March LC-5C-MD Pump 230v, 1 "FPT Inlet, 1/2" MPT Outlet, Nylon Front / Rear Housings, Ceramic Shaft and Washers, Ceramic Magnet, 17 GPM @ 27 Feet to Head, Run Dry Protection. 1/8 HP, 230 Volt 50/60 Hz, Epoxy Coated Submersible Motor. The SPM1000-230 is also ISO 8846 Marine Ignition Protected.
Economical March LC-5C-MD Replacement Pump with a 230 volt motor.
Applications:
Most commonly used on your boat or yacht for marine air conditioning while circulating seawater.
Specifications:
1000 GPH

1″ FPT Inlet, 1/2″ MPT Outlet

27 Feet of Head @ 11.7 PSI

230 Volt

1/8 HP

​

Weight: 18 lbs

Dimensions: 12 × 8 × 10.5 in

Maximum Flow: 1000 GPH – 17.2 GPM (54.8 LPM)

Maximum Head: 27 Feet of Head @ 11.7 PSI

Maximum Internal Pressure: 25 PSI

Maximum Liquid Temperature: 130° F (54° C)

Inlet: 1″ FPT

Outlet: 1/2″ MPT

Hertz: 50/60 Hz

Voltage: 230 Volt

Phase: Single Phase (1 PH)

Watts: 216/207

Amps: 1.6/0.9

Horsepower: 1/8 HP

RPM: 3450
Features:
To withstand thermal overloads without failure, the pump has run dry protection. Finally when cooled, the pump will resume operating normally.

Polypropylene, Buna N and Ceramic Magnet make up the wet end materials exposed to liquids. When submerged, Epoxy, Stainless Steel, Polysulfone, and also the Cord will come in contact with the solution.

The inlet connection is a ¾" female pipe thread and the outlet is ½" male pipe thread.

Includes fully integrated, heavy duty marine base and also the original base in contrast to other pumps.

The motor is a 1 Phase 115V, 1/8 Horsepower motor, running on either 50 or 60 HZ. The pump is not self-priming and requires flooded suction.

Maximum internal pressure is 25 PSI and the maximum liquid temperature is 130 Fahrenheit or 54 Celsius.

The magnetically driven SPM1000-230 volt pump with no shaft seal is our core model. In open air or furthermore, fully submerged, the PM500 pumps as a result offer complete moisture protection due to being epoxy coated. When re-assembling the pump for service also make sure all "O" Rings are properly seated.

ISO 8846 Marine Ignition Protection.

NMMA, USCG and SAE J1171:2016
WARNING: This product can expose you to chemicals including arsenic, which is known to the State of California to cause cancer. For more information, go to http://www.P65Warnings.ca.gov.