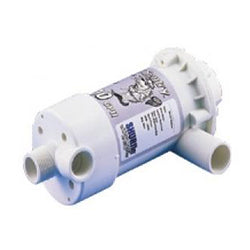 HYPRO-SHURFLO
Shurflo Bait Sentry Livewell Pump 500GPH
SKU: 7120500
Shurflo Bait Sentry Livewell Pump 500GPH
The Bait Sentry livewell pumps are designed for easy installation & trouble-free operation. The Shurflo Bait Sentry has a unique magnetically-driven impeller. There are no parts mechanically connected. The mag-drive pump can ingest large amounts of debris without damage to the motor. If the impeller becomes locked, the motor magnet breaks free and the motor continues to run at a very low amp draw. There are no seals to burn and dry run conditions are not a problem.
The Bait Sentry has a patented anti-airlock feature that automatically clears the air in the livewell system whether the boat is moving forward or sitting still. There are three distinct SHURflo Bait Sentry models to fit your needs, based on the capacity of your boat's tank capacity.
The Bait Sentry can accommodate tanks from 6 gallons [22 liters] through 62 gallons [234 liters]. The pump is designed for extremely long life in a sport fishing environment and carries a 3 year warranty. The Bait Sentry is the highest quality livewell pump on the market today!
OEM#

1700-000/010/020-030

Aftermarket #

1700-001/011/021-030

Description

12 VDC Continuous Duty

Tank Size

30/40/60

Dimensions

4.93"X 7.85"
[125mm] X [200]

Flow Rate

500 GPH [1,893 LPH]

/

800 GPH [3.028 LPH]/1,100 GPH [4,164 LPH]

Amps

1.5/2.75/3.75

Port Size

3/4" inlet NPT
3/4" outlet Barb (1100 GPH: 

1-1/8" outlet Barb)
WARNING: This product can expose you to chemicals including arsenic, which is known to the State of California to cause cancer. For more information, go to http://www.P65Warnings.ca.gov.